Rail Cubicles / Enclosures
RSP have a wealth of knowledge and experience in designing and manufacturing rail cubicles/enclosure to fit any requirement you may have. We can manufacture the rail cubicles from your specific requirements or work with you to design the rail cubicle to meet your exact business needs.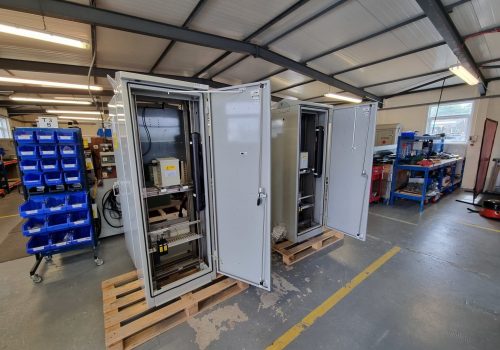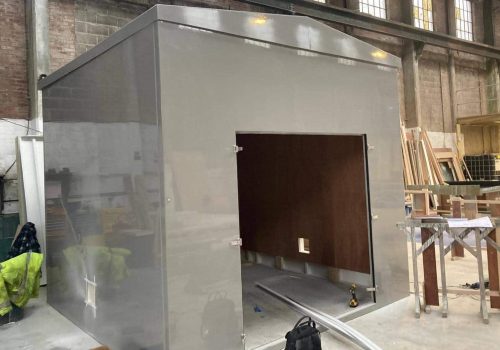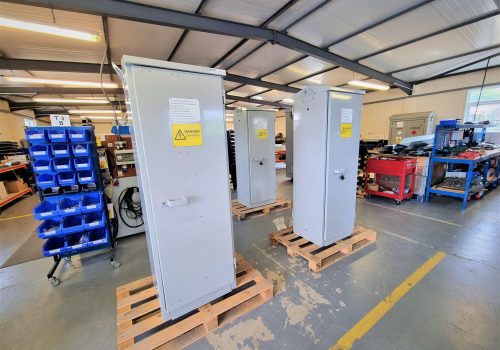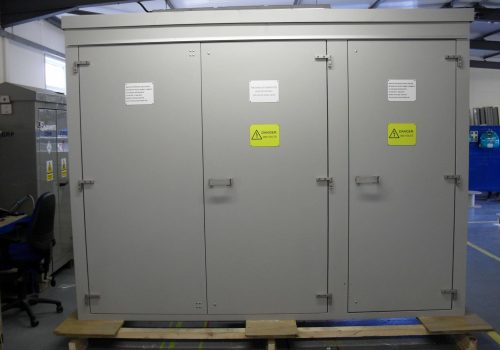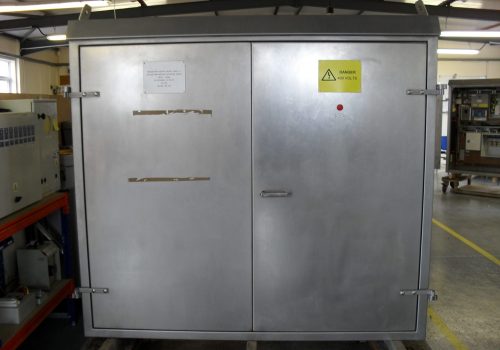 Bespoke Rail Cubicles & Enclosures Range
These rail cubicles can be manufactured in stainless steel, mild steel or GRP and can be designed and tailored to meet project specific requirements in line with budgets and timescales. Our in-house team of electrical designers use 3D modelling software to produce 3D designs and can manufacture rail cubicles to meet any customer bespoke specifications, from Pump Control Cubicles to Rail Sub Distribution Cubicles, Transformer Cubicles and more.
RSP has the knowledge and capabilities, working from our modern factory in Saltash, Cornwall, we can design, manufacture and test complete rail housing solutions, which offer our clients and its project the increased safety of off-site manufacturing.
Pump Control Cubicles
The Pump Control Cubicle is designed to provide power to and house the railway pump control panel along with its own domestic supply for lighting, power and heating.
RSP were chosen to design and build the Pump Control Cubicle as part of the Wessex SMD Framework – Epsom Station Embankment Permanent Works Project, a new Pumping Station will be installed, and a new power supply will be commissioned from the existing Network Rail DC Traction Substation.
Rail Sub Distribution Cubicles
We have also recently designed and built a Sub Distribution Cubicle to be installed at Paddington Station.
The cubicle was required for LV power supplies to REBs M0/95 & R0/46 and is single sided, single compartment assembly and manufactured from GRP, approved to Network Rail standards. The cubicle, much like a DNO Cubicle, contained incoming and outgoing supplies and contained its own domestic supply to control internal lighting, power and heating. All of our LV distribution cubicles can be designed and tailored to your project specific requirements.
Rail Transformer Cubicle
A rail transformer cubicle is the housing which covers and protects a power transformer, the rail cubicle can be lowered into position over the top of the transformer and fixed to the concrete plinth after the transformer has been installed. The Transformer cubicle has its own lighting and power along with thermostatically controlled ventilation to regulate the temperature around the transformer. We can design and manufacture rail cubicles to fit bespoke sizing and solutions.
Rail Power Pillars/Feeder Pillars
Our rail Power Pillars are manufactured and fully tested to meet standards BS7671 and BSEN 60439, and are available in mild steel, stainless steel or GRP. We can supply them fully equipped to your specification, with lineside transformers, switchgear, cubicle lighting and anti-condensation heating. With or without a plinth which can help reduce time spent on groundworks.