Rail Location Cases & Cabinets (LOC's)
RSP has supplied Network Rail and London Underground with fully assembled location cases (Rail Loc's) and REB's and has an established reputation for supplying quality performance rail signalling products.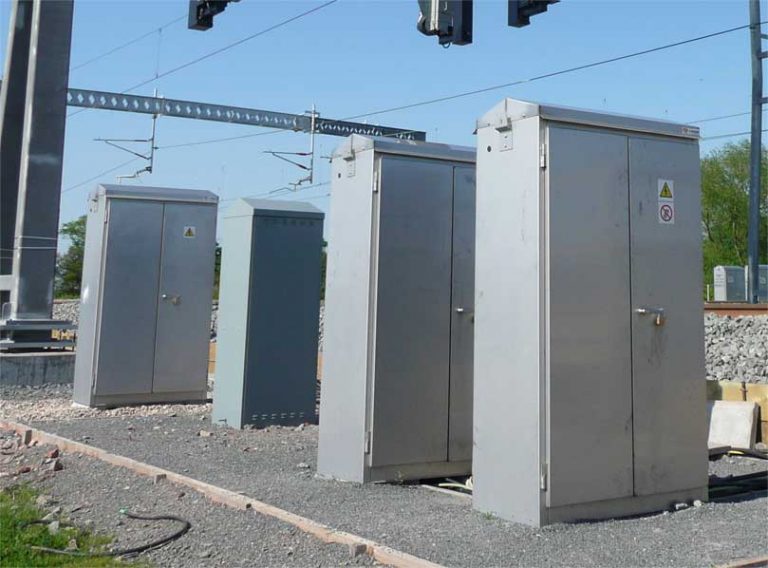 Rail Location Cases (Rail LOC's) and rail location cabinets provide housing for rail signalling equipment, switchgear, communications networking and E&P equipment. RSP is at the forefront of engineering and offers a full range of Network Rail accepted location cases and railway trackside cabinets.  All internal layouts for the location cases can be tailored to suit all design requirements.  See Signalling Equipment Racks
Location Case Product Range
RSP's signalling location case range includes mild steel, stainless steel, painted steel and GRP composite equipment cases. Signalling equipment can be housed within traditional full-width and half-width location cases as well as tunnel cases, location.  The railway location cases can be supplied alone, or fitted with bespoke internal equipment racking tailored to suit every individual application. All location cases are fitted with BRS-SM440 bar work to offer SSI, Relay, HVI, and Power installations.
Bespoke Location Case Design 
RSP experienced in-house team of IRSE licenced designers offer a bespoke package of steel equipment case designs. We work with your requirement, from concept to the principle designs through to AFC manufacturing wiring diagrams. RSP can undertake the product design for a wide range of projects utilising our wealth of knowledge gain through many years of industry experience.
In-house Manufacture & Testing 
Rail Signalling and Power's Rail Loc's are populated at our manufacturing facilities in Saltash Cornwall, by our experienced IRSE licenced in-house team.  Our in-house team conducts 3c testing which identifies any latent interface issues, these issues are resolved in the factory early in the project life cycle, reducing the risk of delays to the project. The benefits of this testing have been appreciated by our clients and have significantly reduced costs.
Our standardised location case layout "first-fit" philosophy leads to a shortened delivery programme and cost savings. Our location cases feature market-proven Network Rail standard components and can feature our own market-leading Functional Supply Point (FSP) power enclosures. 
Rail Location Case 
Product Benefit
Built to your own design or allow us to produce a detailed design using our unique RSP standardised approach to provide; greater consistency, improved lead times and cost savings

Configured to suit relay and computer-based interlocking equipment or to deliver a full Digital Railway ready solution

All cases can be supplied full 3A tested in the factory

Provide the option of accommodating Factory Functional testing

Full width location case Dimensions; W=1022mm x H=1861mm x D=558mm. Max Weight = 400kg

Half-Width location case Dimensions; W=588mm x H = 1861mm x D=558mm. Max Weight = 200kg
Product Support
Every rail location case come with a life expectancy of 40 years minimum. Each case comes with the reassurance that an experienced technical team is on hand to support if required.
Contact RSP to find out how we can help your business today.